August 7, 2020
In this article, we shall dispel some common myths about excessive hair fall or hair loss. Below, we use an excerpt from the Haircare Bible which talks about the common misconceptions about hair fall. Stay tuned for more in this series.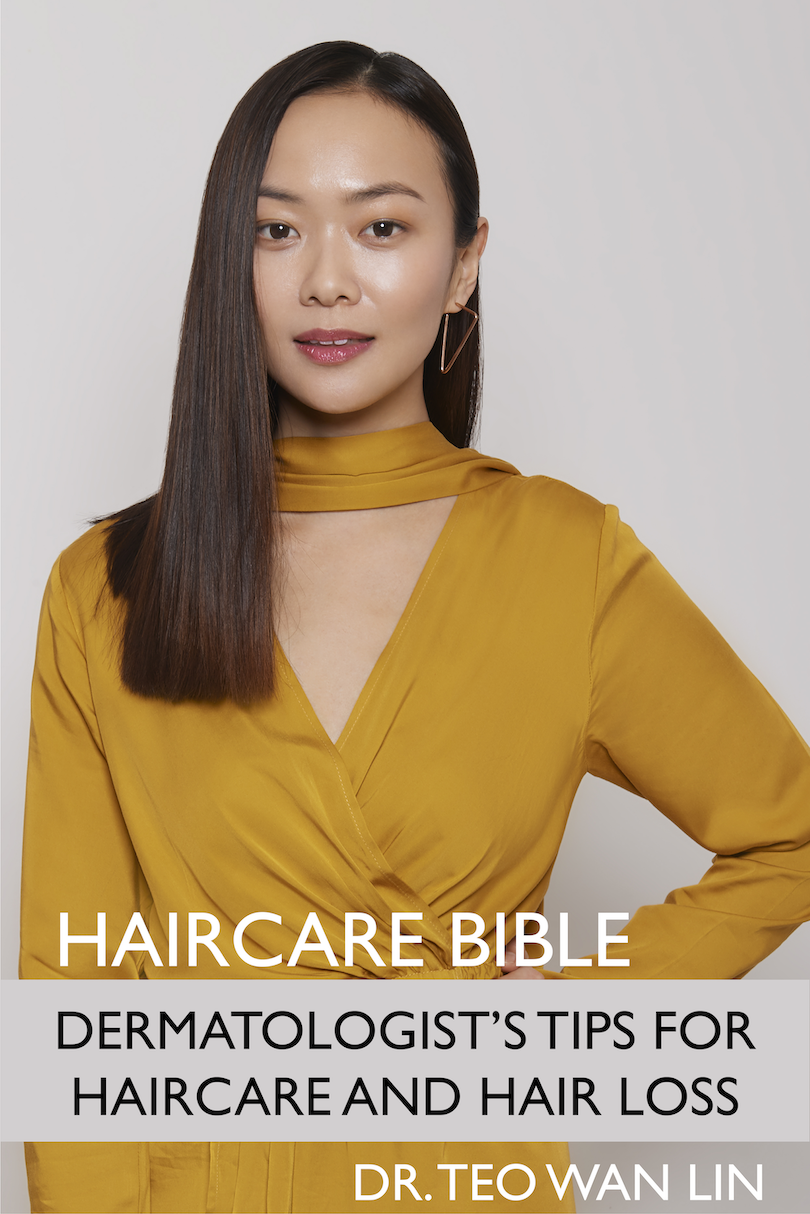 Dr. Teo Wan Lin is one of Singapore's prominent dermatologists and is also an expert in cosmeceutical research and development, having written the Skincare Bible – Dermatologist Tips for Cosmeceutical Skincare. She is the founder of Dr.TWL Dermaceuticals, one of the top dermatologist-formulated cosmeceutical skincare and haircare lines in Asia. As an expert in cosmeceutical formulation and with her background in dermatological research, Dr. Teo is widely consulted as an expert medical and cosmetic dermatologist for various media collaborations.
Dr. Teo's second book, the Haircare Bible is catered to both beauty aficionados as well as sufferers of hair conditions such as hair loss, sensitive scalp, and dandruff for tips on home hair and scalp care. Chemists who seek to understand the perspective of a dermatologist in haircare formulas and individuals with an interest in hair care formulations will also find this a thorough and helpful read. Hair cosmeceuticals – for both the scalp and hair shaft, as well as best grooming practices are shared in a friendly FAQ format.
Myth #1: I have just moved to a different country and I think my hair loss started only after that. I suspect it is the water that I use to shampoo my hair with!
Potable water compliant with international guidelines for drinking water will not influence hair growth. It is sometimes a red herring, as a major move to a different country can cause a certain amount of mental and emotional stress, which will manifest 2-3 months after the move, as a form of hair loss known as telogen effluvium. It could also be the change in the climate, for example from a temperate climate to tropical weather, which causes the scalp to get inflamed. A common scenario is a flare-up of the condition seborrheic dermatitis, known to laypersons as dandruff. Seborrheic dermatitis is worsened by humid weather and can cause some hair shedding to occur as it triggers off scalp inflammation.
Myth #2: I just changed my shampoo before having excessive hair fall, could this be the culprit?
The answer is no, there is usually no impact of change in shampoo on hair fall. However, if you suffer from dandruff, start to use an over the counter anti-dandruff shampoo containing active ingredients such as selenium sulfide, zinc pyrithone and salicylic acid, your condition should improve.
Myth #3: Since developing hair loss, I switched to organic mild shampoo, that should help?
There is no such thing as organic shampoo, by way of classification via the FDA or Singapore's HSA. Organic refers to food produce grown without pesticides, and as shampoo is not ingested, it does not apply. The key features of an effective shampoo is to be able to perform the following functions: removing oil, dirt and hair products from the scalp and hair shaft and be gentle enough on the scalp so as not to trigger off dryness and sensitivity.
Lastly, it should contain active ingredients that can help stimulate hair growth, such as a copper peptide. The differences between the lathering abilities of different types of shampoos can be traced back to the type of surfactant used. Specifically, a shampoo that lathers strongly is likely to be high in laureth sulfates, and this can cause scalp dryness as well.
Myth #4: Can I see a trichologist or an aesthetic doctor instead of a dermatologist for my hair loss?
Excessive hair fall can be indicative of medical conditions such as autoimmune disease, thyroid or anemia — these can be serious health conditions if ignored. A trichologist is not legally recognized as a medical practitioner, neither can they be held accountable in any way for your health.
Aesthetic doctors are general practitioners with a medical license. They are not specialists in skin hair or scalp as recognized by the governing medical bodies. Only accredited dermatologists (check your doctor's license at your local Ministry of Health or board accreditation facility – it should explicitly state specialist qualifications) are legally recognized as the correct specialist to treat your scalp and hair problem.
Myth #5: Do herbal scalp treatments for unclogging scalp pores work?
Here's the dealbreaker, those machines used by trichologists to scan your scalp? These are all marketing gimmicks and are not used in dermatologists' offices as they offer no clue to the diagnosis. When the clinical examination is insufficient, dermatologists will order scalp biopsies to rule out rare causes of hair loss which are scarring, such as frontal fibrosing alopecia.
The scalp does not have "clogged pores" per se. If you notice bumps on your scalp, this is not a sign of clogging. It is an inflammatory condition known as scalp folliculitis, which can be due to bacteria or a yeast infection. These will not respond to herbal or deep cleansing treatments and will require oral medication in combination with a medicated shampoo for effective treatment.
Treatment – What can I do to prevent excessive hair fall?
If you are in the early to moderate stages of hair loss and thinning, or have a family history of hair loss, get started on a home-based hair diode laser/radiofrequency device such as the Raser™ Hair Comb.
How does laser light therapy prevent excessive hair fall?
The Raser™ Hair Comb diode laser treatments work through the process of photobiostimulation, delivering low-level laser light to your hair follicles. This helps to activate them for stronger hair growth. In addition, the boost of nourishing light energizes hair follicles at a cellular level to stimulate growth factors.
As a result, it becomes possible to reverse hair thinning, and restore your hair's natural growth cycle. This will help your hair grow fuller, denser, longer, and stronger. Laser light therapy is recommended by dermatologists to their patients with hereditary hair loss. The comb is also FDA Approved for laser device usage in the fields of dermatology and hair restoration.
What is a radiofrequency device?
Radiofrequency devices are used on the scalp to produce the rejuvenating effect of the wound healing process. Hair follicles undergo the same process of wound healing in order to stimulate hair growth. Hence, using radio frequency technology can help in treatment of hair loss. This is especially relevant for hair loss due to genetic causes such as female pattern and male pattern hair loss. This strengthens the hair follicles, preventing excessive hair fall and promoting hair growth.

The  Raser™ Hair Regrowth Comb is most effective for people in early to moderate stages of hair loss and thinning. This comb is a multi-functional 5 in 1 comb, encompassing diode laser, radiofrequency, red photon, electric muscle stimulation, and massage with ozone sterilization. These functions are helpful in the prevention of excessive hair fall as it addresses the causes of hair loss holistically and stimulates the hair follicle via 4 main modalities – Laser diodes, radiofrequency, red photon light therapy as well as scalp massage which stimulate blood flow to the hair follicles. The teeth and shape of the Raser™ Hair Regrowth Comb help to separate the hair parting to efficiently deliver light energy to scalp follicles for optimal results.

Overall, light therapy/radiofrequency devices are recommended as part of comprehensive hair loss treatment. The Raser™ Hair Regrowth Comb, in particular, stimulates hair follicles, enhances absorption of hair growth serums by the scalp, restores hair elasticity, and add shine to the hair shaft with anti-frizz features.

© 2020 TWL Specialist Skin & Laser Centre. All rights reserved.

Tags: Hair Loss, Haircare